Japanese department stores usually have 1 or 2 floors on the ground floor or in the basement devoted to selling food. Not restaurants, but pastries, teas, pickled things, etc, pretty much anything you can put into a really fancy package and sell in small amounts.
Toby and I wandered around the basement of the JR Isetan department store today and ended up buying a chocolate (him) and a pastry (me) to take back to the hanare we're staying at and consume later.
Toby, of course, ate his chocolate before I took any pictures, it was basically a 2-2.5″ dark chocolate disk with pieces of candied ginger on top of it.
I got a cream puff, and the clerk wrapped it up so nicely that I took photos of the unboxing to share with y'all.

The bag it came in.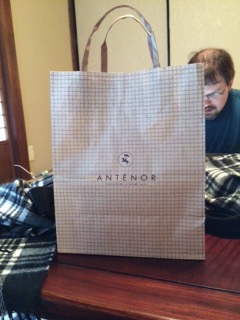 The box it was packed in inside the bag.
Opening the box…
The contents of the box.
The small ice pack placed in the box and taped to the side to keep it from getting overly warm. It was wrapped in cardboard to prevent it from sweating all over the inside of the box.
And now…revealing the cream puff! It was also wrapped in cardboard to protect it, and there was also a spacer made of cardboard to wedge everything in so it wouldn't shift during transport. Not pictured: the cute little wee plastic spoon it came with.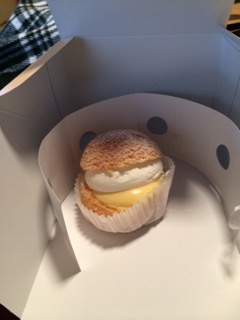 Cream puff closeup! It's got whipped cream AND pastry cream inside a shell made of some sort of puff pastry.
Using the cute little wee plastic spoon to spoon up some of the cream puff innards.
And then giving up with the spoon and going all in with the hands!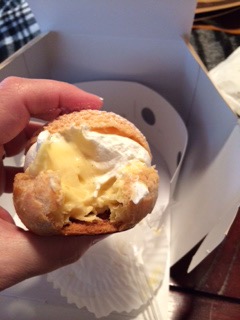 It was yummy.